A Snippet preview of my new instrumental.
full track digitally released 30th September, 2023..
Kolkata Delta; Will be available on all platforms (30/09/23). Composition and National Steel Guitar: Tom Doughty, Acoustic Double Bass: Matt Owens, mixed and mastered by Kostas Manikis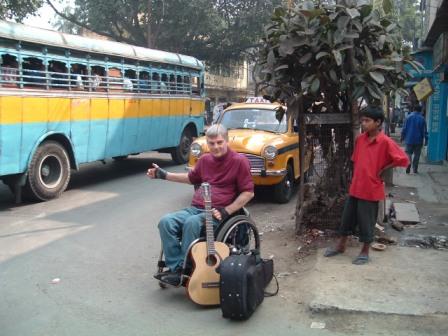 Tom Doughty is an acclaimed musician, performer, songwriter, recording artist and teacher who has toured both the UK and internationally. Today he is acknowledged as one of the world's finest lap steel guitar players. His original mentor, Woody Mann describes Tom's music as 'coming from that natural place great music comes from – personal expression, honest and right from the heart. The music just flows. He uses his unique set of circumstances as an opportunity to explore the limitless possibilities of making music. The sounds of his musical roots are there as his creative springboard – from lush jazz ballads to bluesy Mississippi Delta grooves to his own interpretations of classic tunes. But with his spontaneous approach, unique playing style and swinging groove, Tom creates something new, something completely his own. His original instrumental and vocal improvisations envelop you with his own excitement of the moment as the music seems to just happen. For me, playing music with Tom is a joy, on stage and off. It's always about improvisation, searching, and listening.'
Tom's approach to the instrument and his playing style were developed through years of persistence and hard work as he musically overcame the limitations caused a permanent spinal injury he had at the age of 17. A unique voice among guitar players. It is his belief that the pleasure of making music must be available to everyone, whatever their restrictions.

"Those unique circumstances. My father, the engineer teaching me how to be creative, inventive and resourceful. His records. By chance, the musical background, the way I learn, the physical complexities and proportions of my spinal Injury and fingers. My right hand, barely able to make a claw; but enabling me to re-invent the way I play finger style, making best use of my shoulder, elbow and wrist. The forefinger of my left hand being so flaccid that I can throw the bottleneck around using my elbow and wrist. My love of fun and exercise so I enjoy keeping fit which in turn helps me to balance in order to play the guitar and throw my arms around.. A unique set of circumstances?
We all have unique circumstances.
Entangled Life. It's life affirming ".
This will always be a human, non-AI website! :-)… From the icons at the top of this page, you will find my Social Media, Youtube channel and recorded music for purchase. Additionally, the SoundCloud channel has clips of music and interviews that are not available anywhere else.